When you create a reading snapshot, this page lets you review the reading snapshot you've created before saving it.
Who can do this with default permissions?
District Level Administrators, District Dashboard Owners, District Staff, School Level Administrators, School Staff, Teachers
How to Get to This Page
First, do one of the following:
On the Home page, select Reading Snapshots under "Share Progress."

On the Home page, select Accelerated Reader Independent Reading; then, select Share Reading Snapshots.

Then, on the Reading Snapshots page, select Create a Snapshot.
Select the student groups to include. Then, select Next to go to Achievements.
Select the type of achievement to include and choose the options for that achievement. Then, select Next to go to Appearance.
Choose options for the appearance of the reading snapshot. Then, select Next to go to Review.
Reviewing Your Selections
On this page, you will see a list of the choices you've made and a preview of your image or web promotion.
If you want to change the students who will be included or the achievement that you want to share, select Edit next to the appropriate item. You can also select Back to go back to previous steps.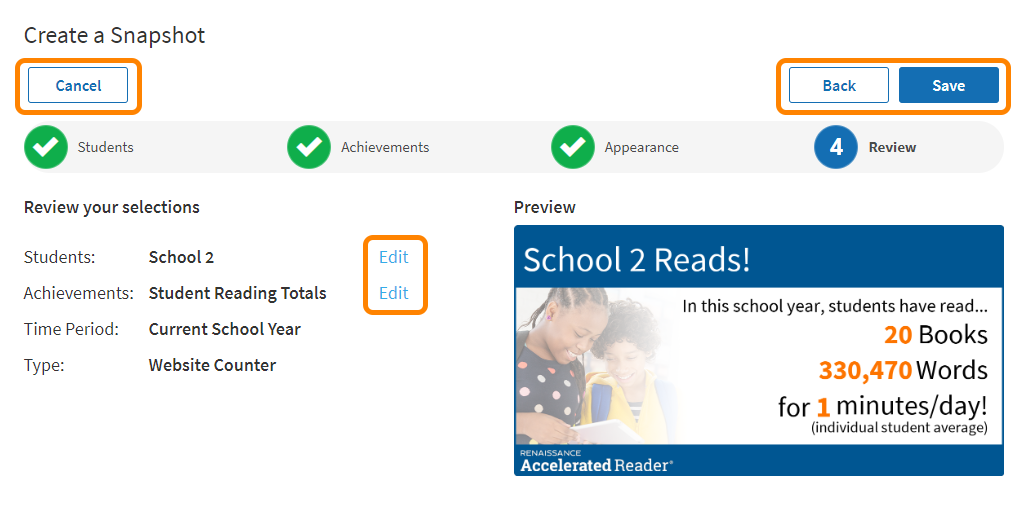 If you decide not to create the reading snapshot or save your changes, select Cancel.
If you do want to save the Reading Snapshot so that you can use it, select Save in the top right corner of the page. First you'll see a message while the reading snapshot is being created; if you don't want to wait while that happens, select Go to the Home page in the message. Otherwise, wait while the reading snapshot is created; when it's ready, you will return to the list of reading snapshots that you have created.