When you go to www.arbookguide.com, you will see the login page first.
If an account has already been created for you, type your email address and password in the text boxes and click Log In.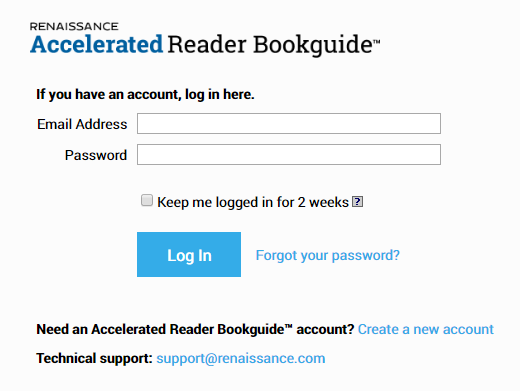 Accelerated Reader Bookguide can remember your login information for two weeks. If you want to do this, check the Keep me logged in for 2 weeks box when you log in. Then, whenever you finish working in Accelerated Reader Bookguide, simply close your browser tab rather than logging out. The next time you go to the site, you will automatically be logged in. After two weeks, you will be asked to log in again.
Note: Do not use this feature if you are working in a shared computer environment.
When you are ready to exit Accelerated Reader Bookguide, click Log Out in the top right corner of the page.
Creating a New User Account
If you do not have an account, click Create a new account on the login page.

Type in the Activation code listed in the Accelerated Reader Bookguide Welcome email you received.

The activation code may already be entered if you clicked the link in the email you received to open the Create a New Account page.

Type your first name and last name in the appropriate fields. (If you want to include a title, such as Mr. or Ms., you can enter it with your first name.)
Type your email address.
Type your password in the Create Password and Retype Password fields.



Your password must contain 6 or more characters with at least one number. Passwords are case-sensitive.

After you enter the information, click OK.
After a few minutes you will get an email confirmation that your account was created.

Click the link in your email to validate and log in to your account and to start using Accelerated Reader Bookguide.
Viewing Your Account Information
From your Accelerated Reader Bookguide Home page, under Setup & Administration, click User Accounts. To edit user account information see User Accounts.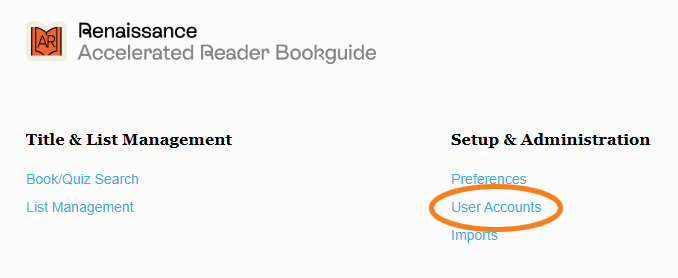 Forget Your Password?
Note: Passwords are case-sensitive. If your password was not accepted, make sure you are using the correct case.
If you have forgotten your password, click Forgot your password? on the Login page.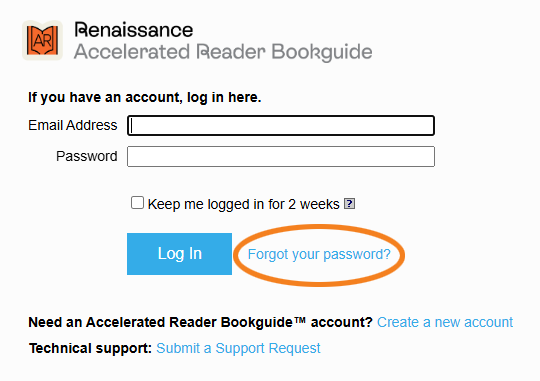 On the Password Request page, enter your log in email address and click Request Password. You will receive your password information in an email.